Newlink 200Mbps Mains PowerLine LAN Ethernet HomePlug Adapter DUAL
Quick Search Code : : 001833
VAT included
£23.37 ex
Same day dispatch Mon-Fri before 3.30pm
Compliant with HomePlug AV specification 1.1 and have a High Speed Transfer rate of up to 200 Mbps.
The Powerline Ethernet Adapters 128-Bit Encryption with key Management. A minimum of two Adapters are needed and more can be added as the network grows

Features:
High-Speed Powerline adapter with Ethernet interface for fast data transfer over existing household electrical circuit
Fully compatible with HomePlug AV 1.1 & Homeplug Turbo
128 Bit AES Link Encryption with Key Management for secure communication
High-Speed transfer rates of 200 Mbps makes it possible to transfer any type of data
Use existing electrical wiring at any power sockets with up to 200 mtrs operation range
Simple plug and play installation
Fully compliant with IEEE 802.3/802.3u 10/100 Mbps RJ45
Supports 10/100 fast Ethernet Connection
Supports Auto MDI / MDIX
Allows users to connect PCs notebooks and other Ethernet devices via any power socket
Low power consumption


Target Applications
High Data rate Broadband Sharing
Shared Broadband Internet Access
Audio and Video Streaming and Transfer
Extending the coverage of Wireless LANs
Computer File and Application Sharing
Network and Online Gaming
IP based Security Cameras


Supports
Plug & Play
Peer to Peer Networking
128-bits DES link encryption with key management
ODFM modulation
Supports QAM 1024 /256 / 64 / 16 DBPSK DQPSK ROBO
Integrated Quality of Service (QoS)
Compatible with:- Windows ME 2000 XP & Vista Mac OS & Linux Operating systems

NB: 200 Mbps Homeplug IS NOT Backwards compatible with 85 Mbps versions!

in the same category
3 other products in the same category:
Availability:
Out of stock
Availability:
13 In Stock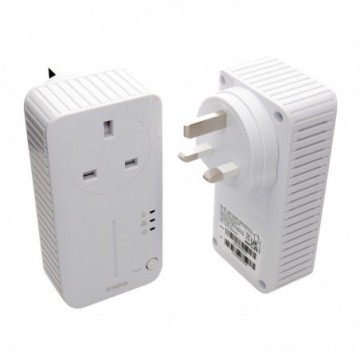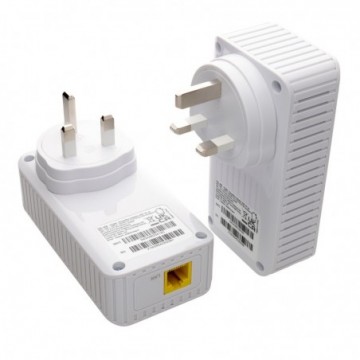 Availability:
17 In Stock
Customers who bought this product also bought: