- COVID-19 Update - CUT OFF is 15:30 Parcelforce / 15:30 Royal Mail (Monday-Friday)

- COVID-19 Update - Parcelforce Courier and Royal Mail are seeing many delays.  They are currently not guaranteeing delivery times.
There are no more items in your cart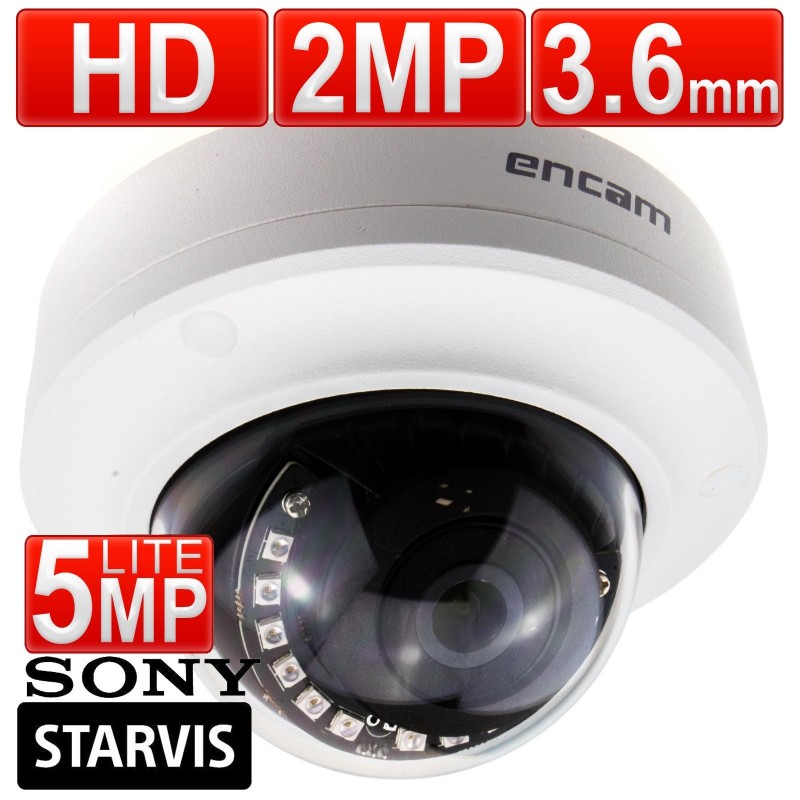  
encam Mini IR CCTV AHD Sony Starvis 2MP/1080P/5MP Lite 3.6mm Security Dome Camera White
2MP 1/2.8" SONY STARVIS Sensor with 5mp Lite Support (IMX307 CHIP)
Lens: 3.6mm
Smart IR up to 20m Range
Day & Night Settings
Digital Noise Reduction
Digital Wide Dynamic Range
3rd Party System Support AHD/TVI/CVI/CVBS
UTC - Up The Coax IP66
VandalProof & Weatherproof Housing

| | |
| --- | --- |
| | 090057 |
| | AHD-090057 |
| | 0.38 kg |
| | encam |
| | |
Up to 5MP Resolutions at 20fps (5mp Lite)!
This camera supports 2mp image resolutions at 30fps. Thanks to the hardware the 2mp sensor is able to scale these images up to 5mp image quality and size (lite) recording them at 20fps (frames per second). These images provide a much clearer, sharper image with a resolution of up to 3072 x 1728 is recorded. The internet is a sea of information with regards to the difference between which megapixel is better to use but it's simple. The more megapixels (MP) the better the image clarity recorded.
Please Note: Your recorder MUST support 5mp cameras for this feature to work

Sony STARVIS (Starlight Technology)
What is STARVIS Technology? Well simply put, Starvis technology improves dark environments. Starvis cameras show bright colourful images at very, very low light levels. Pictures that are almost impossible to make out with the naked eye and are barely visible with other cameras become much clearer when using Starvis cameras.

When the lights drop most CCTV cameras switch and record in black and white using the infrared LEDs when using Starvis cameras with enough ambient lighting your camera will stay in FULL COLOUR. Perfect for the front of your house or anywhere with street or security lighting. Standard Sensors in night mode often have whitewash issues such as car headlights which prevent you from reading registration plates or faces up close lack detail. The Starvis sensor combats this allowing for much clearer images to be captured in low light environments.

Smart IR Sensors
Smart IR adjusts the intensity of the cameras infrared LEDs to compensate for the distance of an object. This ensures objects such as faces are not overexposed (white-washed) when up close.

Digital Noise Reduction:
Digital noise reduction (DNR) reduces noise/interference from your image allowing for improved image quality to be captured. The 3D DNR is the latest technology that enables noise to be filtered even more effectively especially in low light environments.

Wide Dynamic Range (WDR)
The wide dynamic range allows for your camera to adjust automatically to bright and dark areas to adjust for and eliminate overexposure and underexposure conditions.

Up the Coax (UTC)
Not to be confused with POC (Power Over Coax), the up the coax feature allows for you to amend analogue cameras on-screen display through the coax cable connected. This allows you to change settings such as video brightness, contrast, white balance, etc via the XVR/DVR recorder and not while up a ladder installing your camera allowing you to select the perfect setting for your environment.

Please Note: This Feature must also be supported by your recorder. (All Encam recorders support the UTC feature) Your XVR/DVR must be set to PTZ protocol UTC-A for this feature to work with this camera.

Camera Sensor: 1/2.8" SONY STARVIS Sensor (IMX307)
Lens: 3.6mm Lens
Resolution: 2mp Sensor that supports 5mp Lite resolutions
IR Distance: 20 Meter
IR LEDs: 14 x 12pcs
Power Rating: 12v/550mA
UTC - Up the coax controls
Smart IR
Day & Night Settings
Digital Noise Reduction
Digital Wide Dynamic Range
3rd Party System Support AHD/TVI/CVI/CVBS

AHD & TVI - 2mp 1080P at 25/30fps - 4mp at 25/30fps - 5mp 12.5/20fps
CVI - 2mp 1080P at 25/30fps - 4mp at 25/30fps
CVBS - Pal or NTSC (For older TVL systems)
| | |
| --- | --- |
| Type | Camera |
| Color | White |
| Ends | BNC |
| Camera Resolution | 2MP/5MP LITE |
| Camera Type | AHD Dome |
| CMOS | Std CMOS |
| IR Distance | 20m |
| Compression Method | H.264/H.264+ |
No customer reviews for the moment.
8 other products in the same category: